"Group Training" is a HOLOFIT media-space product for fitness clubs and sport events. It aims to exercise several different muscle groups at once to improve coordination and neuromuscular control. Supervised by professional trainers, it is a fun workout for large groups of people.
"全息团体训练课程"是一款应用于健身俱乐部和体育活动中的媒体空间产品。它旨在进行多部位和综合性的肌肉锻炼,以提高协调性和肌肉控制力。 在专业教练的指导下进行, 对于参与到大团体训练的人群而言,这是一个生动有趣的锻炼过程。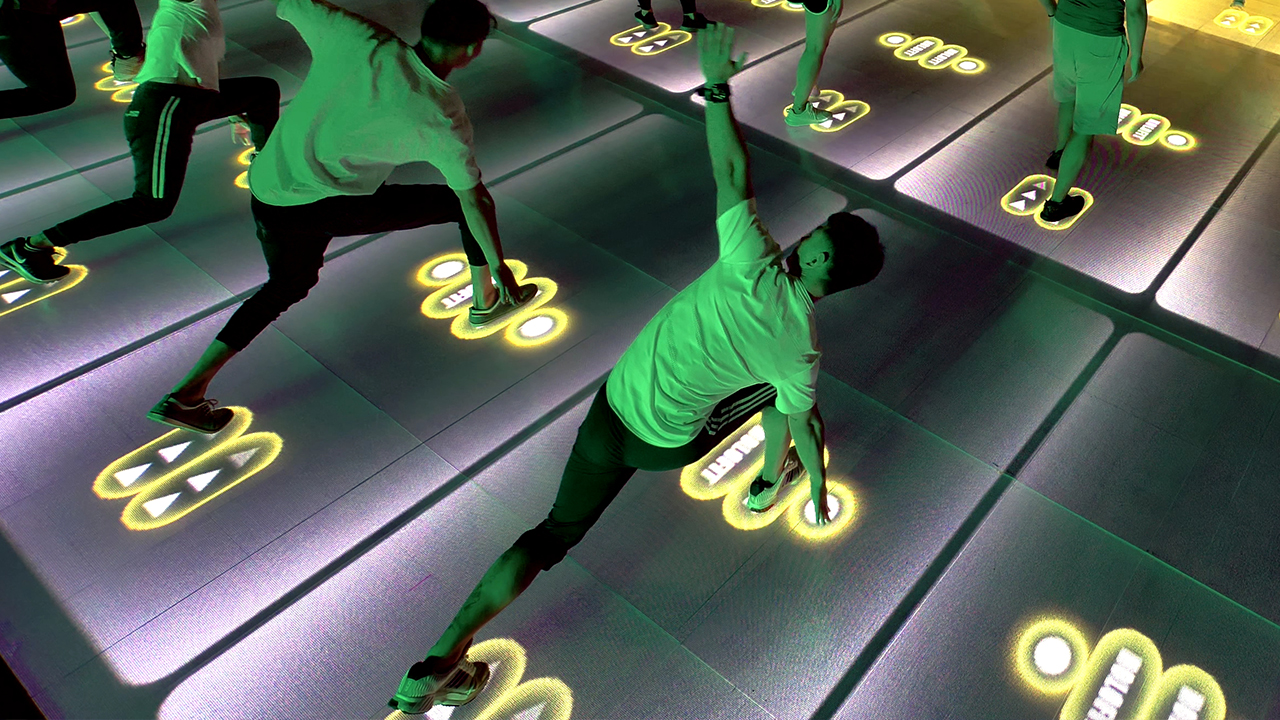 Icons
A "visual language" made of different icons is used to describe "functional training movements". The role of each icon is to indicate specific body part positions, optimal movement directions or equipements to use. This pictogram collection covers a wide range of possibilities for single and cooperative training.
图标
由图标组成的这些"视觉语言"用于描述"功能性的训练动作"。主要用于指示身体特定部位的放置、移动方向还有需要使用的器械等。当被应用于单人或团体的健身培训时,这个视觉语言动作库展示出了广泛的可能性。

5 courses system
An in-house editor allows Holofit's staff members to design the movement layouts. They combine and organize them in libraries to create Holofit's certified fitness classes : MPT, MCT, MET, MST and MMT. The files created are displayed by the "Group Training" software on the LED floor.
五种课程体系
团体训练课程由五种课程体系构成,面向不同需求的受训者。基础课程:MMT;中级课程:MCT,MST,MET 高级课程:MPT。根据课程的特性,我们设计了象征图形符号;根据课程的难易强弱,我们设定了色彩体系。





When leading training sessions, instructors hold a small bluetooth controller to interact with the system. It becomes easy to switch between movements, select different class options whilst moving around the space to provide support to students.
为参与者提供反馈身体状态的直观信息,佩戴的运动手环采集实时数据,并通过无线传感器显示在LED墙面屏幕上。为了提供动感且有激励机制的氛围,通过设计与音乐相匹配的视觉动效来增强整体沉浸式的体验。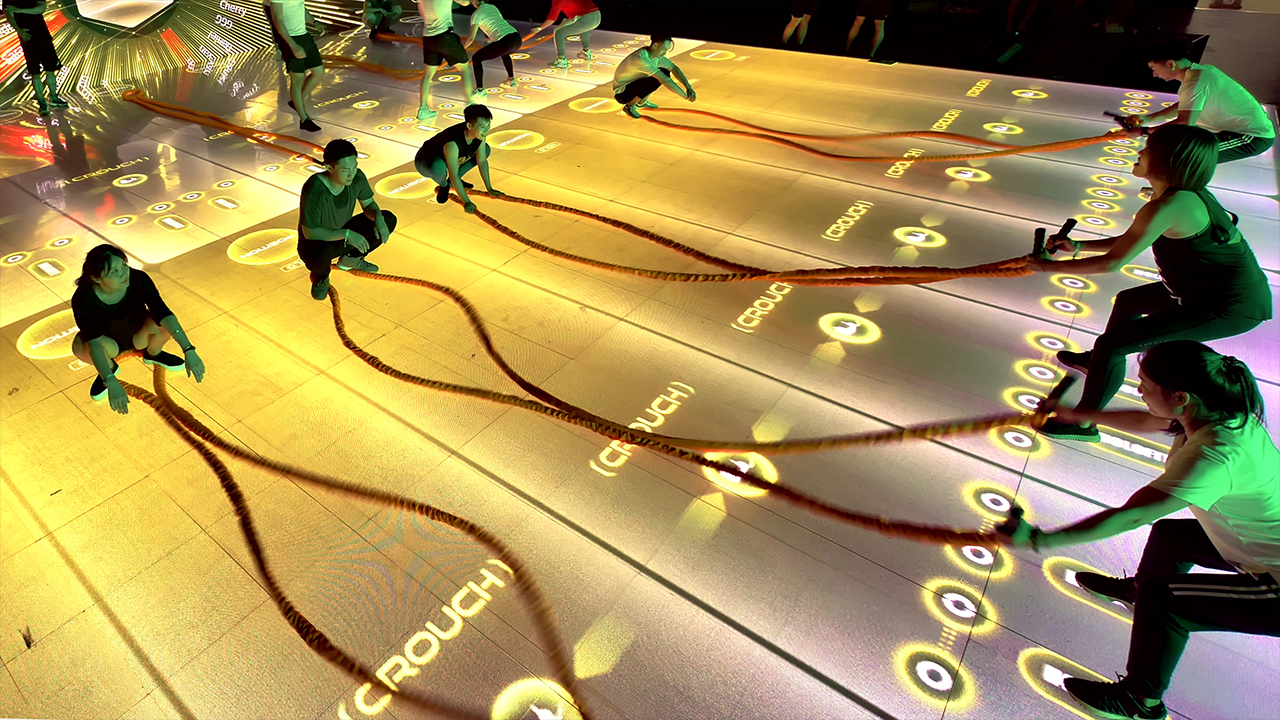 Real-time data coming from the participants' wireless sensors display body state information on the LED wall. The overall immersive experience is enhanced by generated visual effects in sync with the music to immerse the space in dynamic and engaging atmospheres.
在健身培训课程中,教练手持一个小型蓝牙控制器与系统进行交互。可以轻松地在动作之间切换,选择不同动作和课程。与此同时还可以自由的穿梭于学员当中提供支持,极为便利。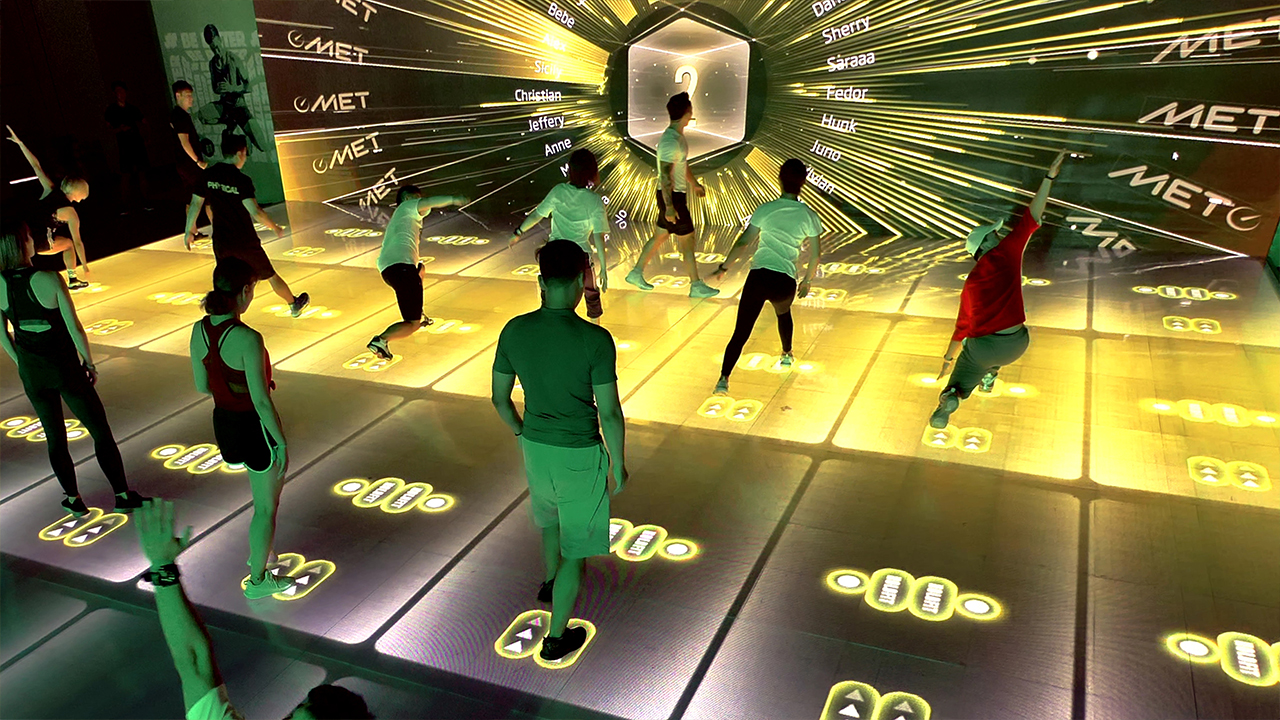 Client:
Holofit
Type:
Interactive Fitness Product
Location:
Shanghai / China
Assignment:
Visual Identity
Media System Development
Real-time Visual Effects
Data Visualization
Year:
2018
客户:
Holofit
类型:
Interactive Fitness Product
地址:
Shanghai / China
任务:
Visual Identity
Media System Development
Real-time Visual Effects
Data Visualization
年份:
2018