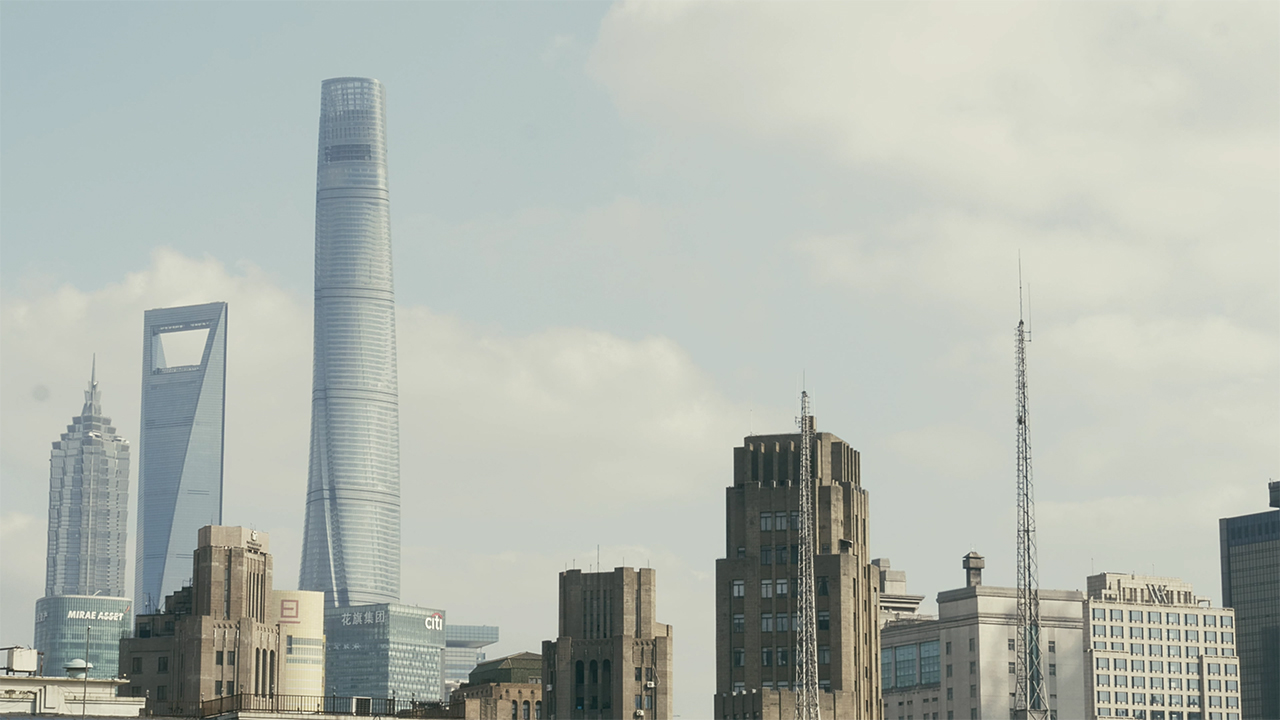 "The Eye" Shanghai Tower
上海中心大厦
The Shanghai Tower is the world's second-tallest building after the Burj Khalifa in Dubai. Near the top, the "Tuned Mass Damper", a large pendulum suspended by cables acts as a counterweight to stabilize the building in case of extreme structural loads. "The Eye" is the exhibition space located on the tower's 125th floor (632m).
上海中心大厦是继迪拜哈利法塔之后的世界第二高楼。大厦顶部安装着"调谐质量阻尼器",一个悬挂在电缆上的大摆作为配重,在极端结构载荷的情况下起到稳定建筑物的作用。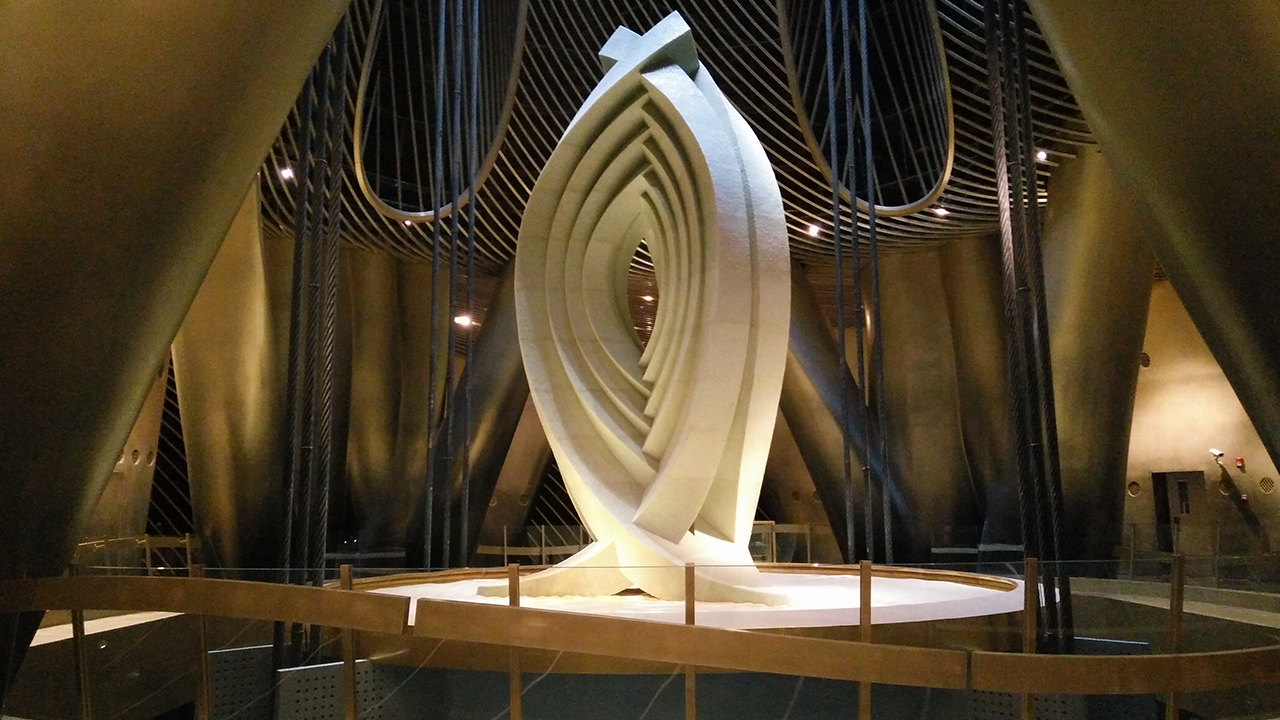 "The Eye" aims to inform and educate visitors about this gigantic device. Immersive and interactive media installations immerse people in an experience that sparks imagination. At an altitude of 579.4m, visitors' curiosity is empowered by the world's highest multimedia exhibition.
"巅峰之眼"是位于塔楼125层(632米)的展览观光空间,体验沉浸式的互动式媒体装置为观光者解析阻尼器的工作原理。 位于海拔579.4米的世界上最高的多媒体展览,足以满足游客的好奇心。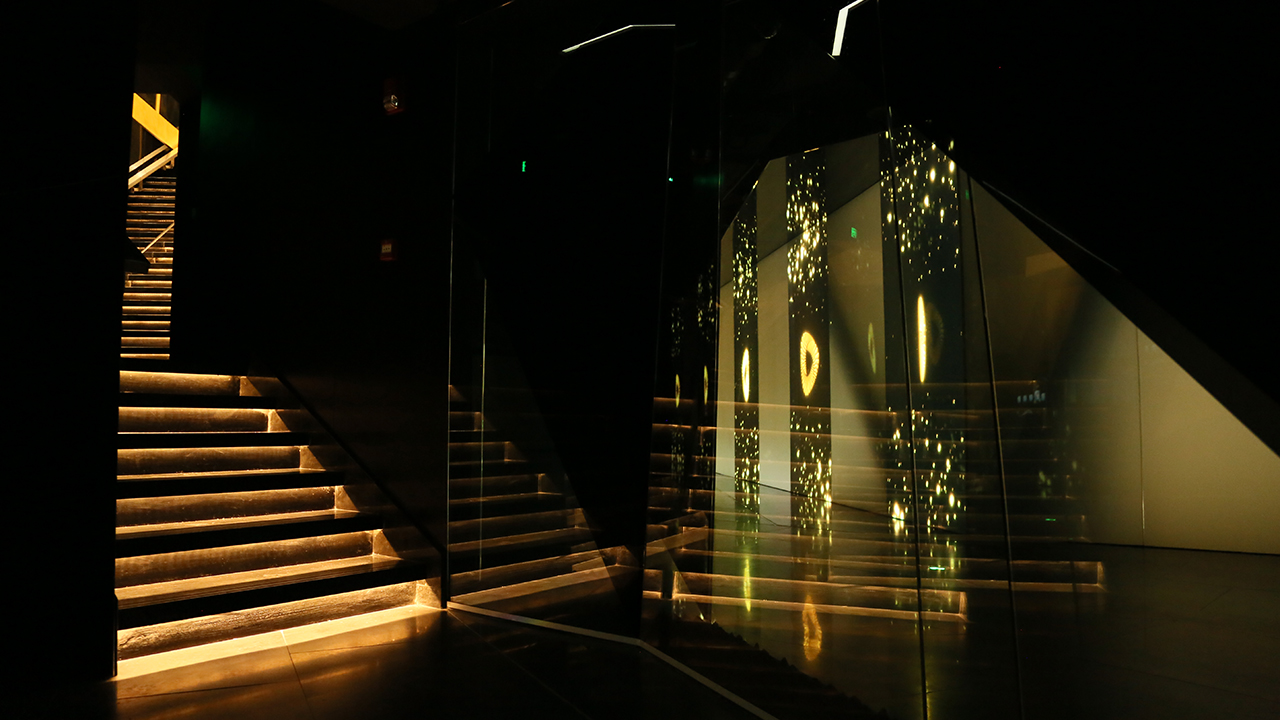 The exhibition's unique atmosphere is a result of aesthetics and technical research conducted throughout the art direction. Consistent accross all media installations, the visual identity is inspired by the interior design and its material palette composed of gold, white and black. To enhance the immersive experience, projected compositions produce multiple reflection effects to blend seamlessly with the surrounding environment.
展览空间拥有独特的氛围,是源于对整个建筑的艺术美学和技术的研究。所有媒体装置的视觉方向,同室内设计所用材料的质感和色调保持一致——金色、白色和黑色。融合了屏幕投射在地面的反射效果,整个媒体装置与周围环境完全融合,增强了参观体验的沉浸感。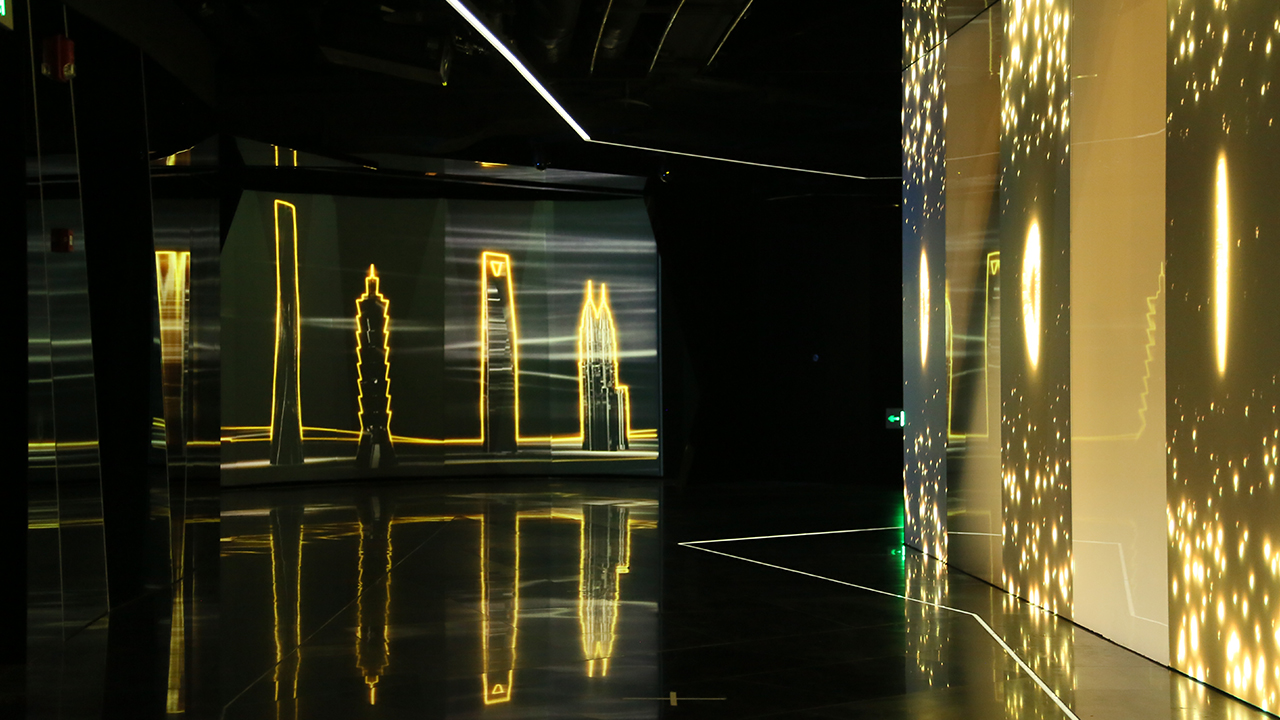 The first installation aims to give a better understanding of what makes the Shanghai Tower's tuned mass damper so unique. Projected on a kinetic wall, this animated visual journey features a bird's eye view on the world's most famous high-rise building. Using hand gestures, visitors open motion graphics to compare different technologies used to stabilized skyscrapers.
第一个装置目的在于,更好地诠释上海中心"质量阻尼器"的独特之处。在会动的墙体上设定了一个旅程媒体装置,动画穿过世界上最著名的几个最高建筑。参观者通过手势操作点开图形动画,来比较这些用于稳定摩天大楼的不同技术。




The second installation gives the opportunity to take control of a weather simulation. By waving their hands in front of an interactive 3D scene, visitors generate real-time winds on the Shanghai Tower. Depending on movement speed and direction, if enough pressure is applied on the tower the mass damper eventually triggers. The glass wall can turn transparent and expose the real machine located behind.
第二个装置可以用来模拟天气。观光者来到互动三维场景前挥动双手,根据手移动的速度和方向,可实时模拟出上海中心大厦的风荷载。 当大厦被施加于足够的压力时,质量阻尼器被触发。于此同时,在视效上玻璃墙体将透显出位于大厦顶端的阻尼器。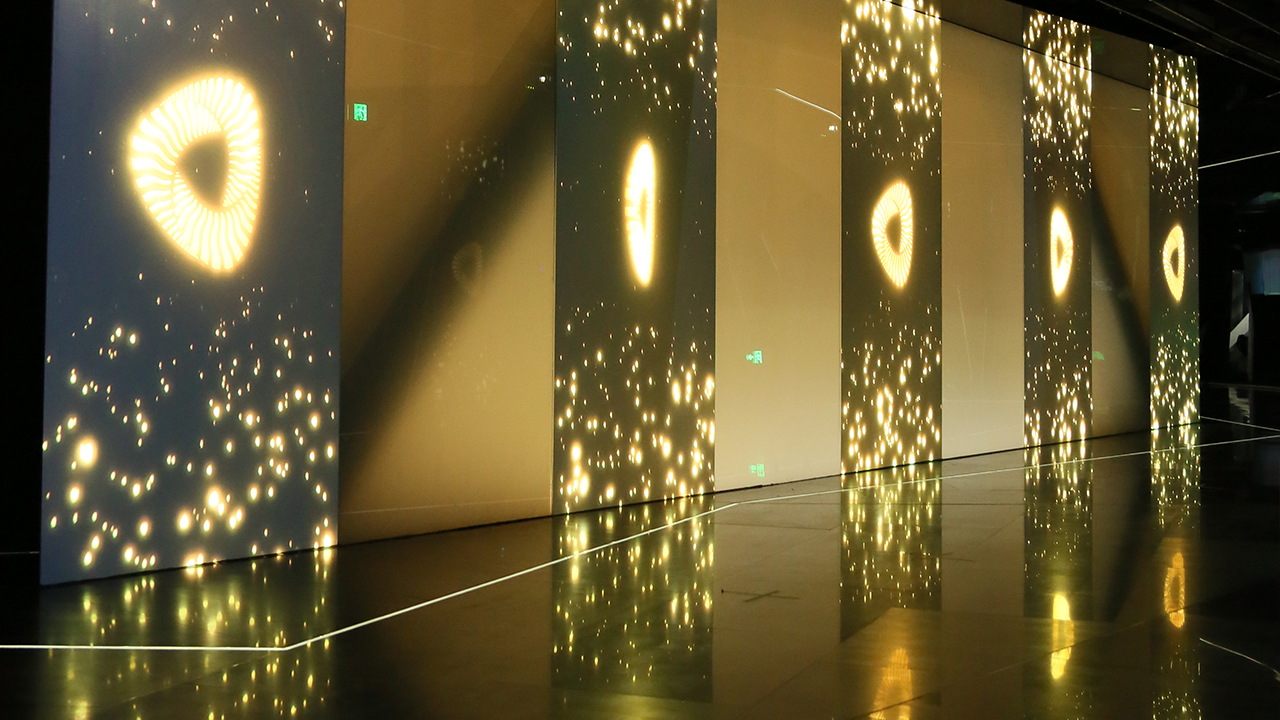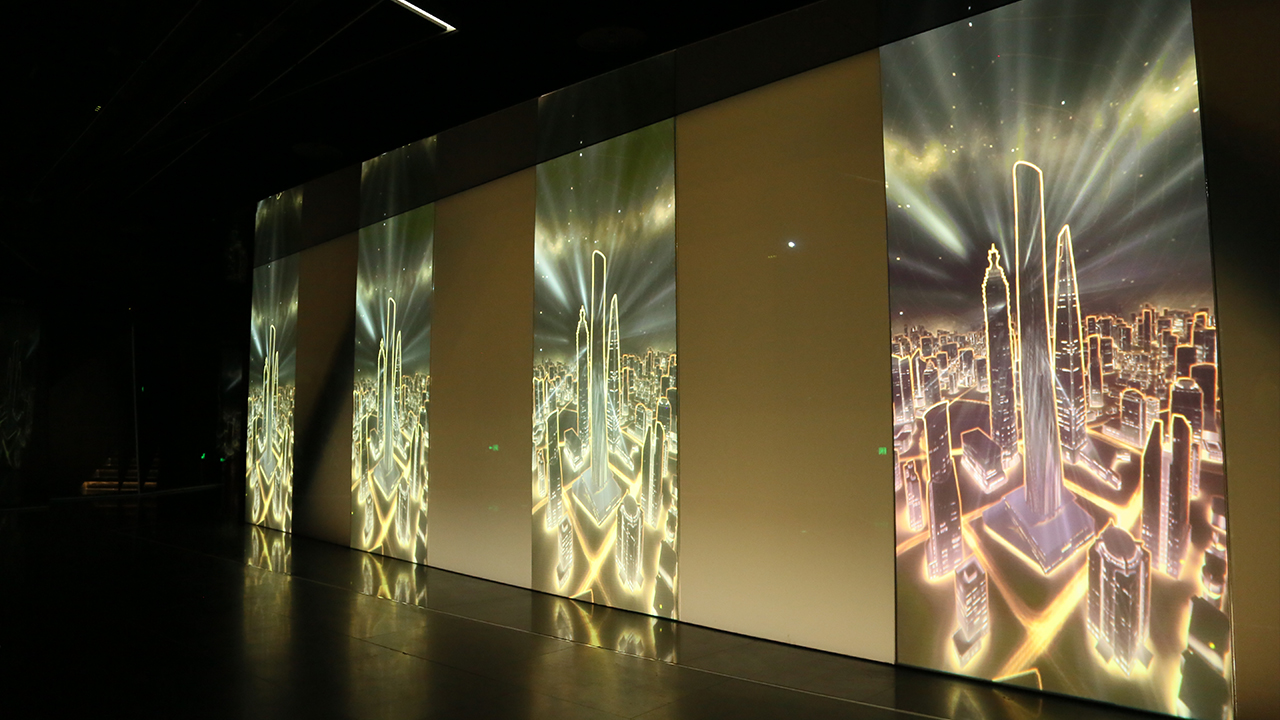 3D layer-based compositing of the Shanghai Tower and its surrounding area.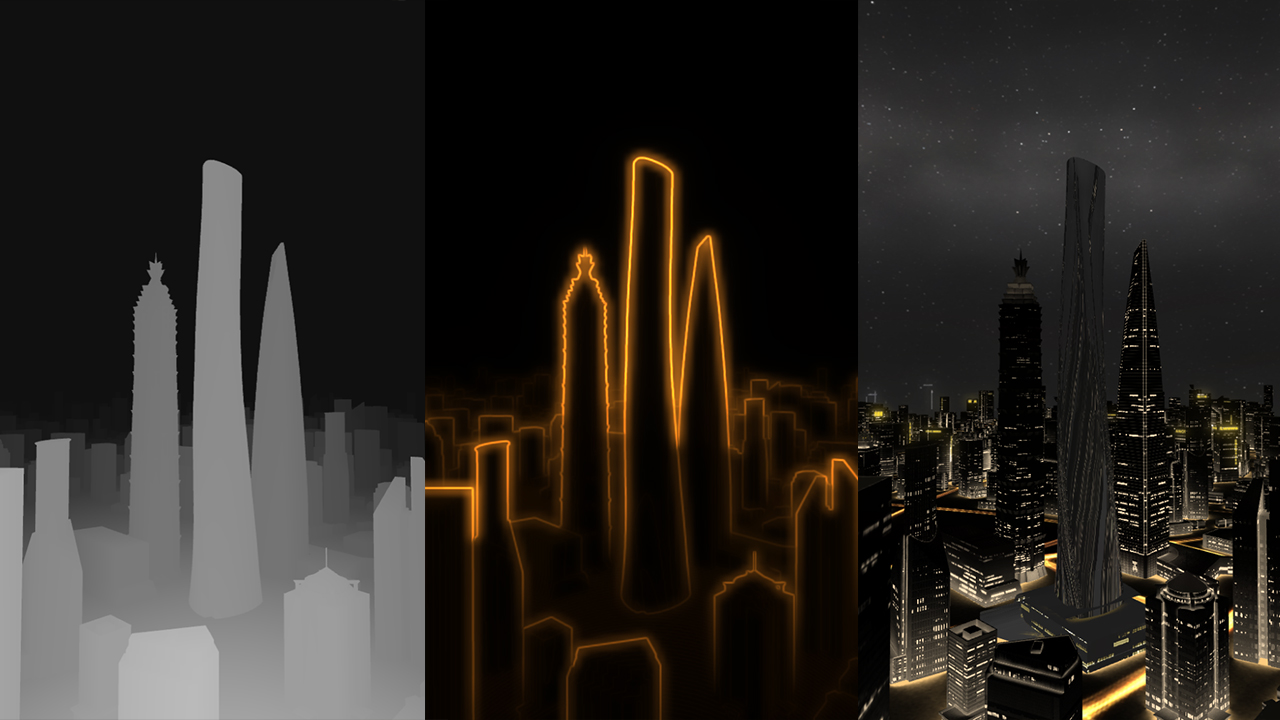 Interactive 3D replica of the Shanghai Tower's "Tuned Mass Damper".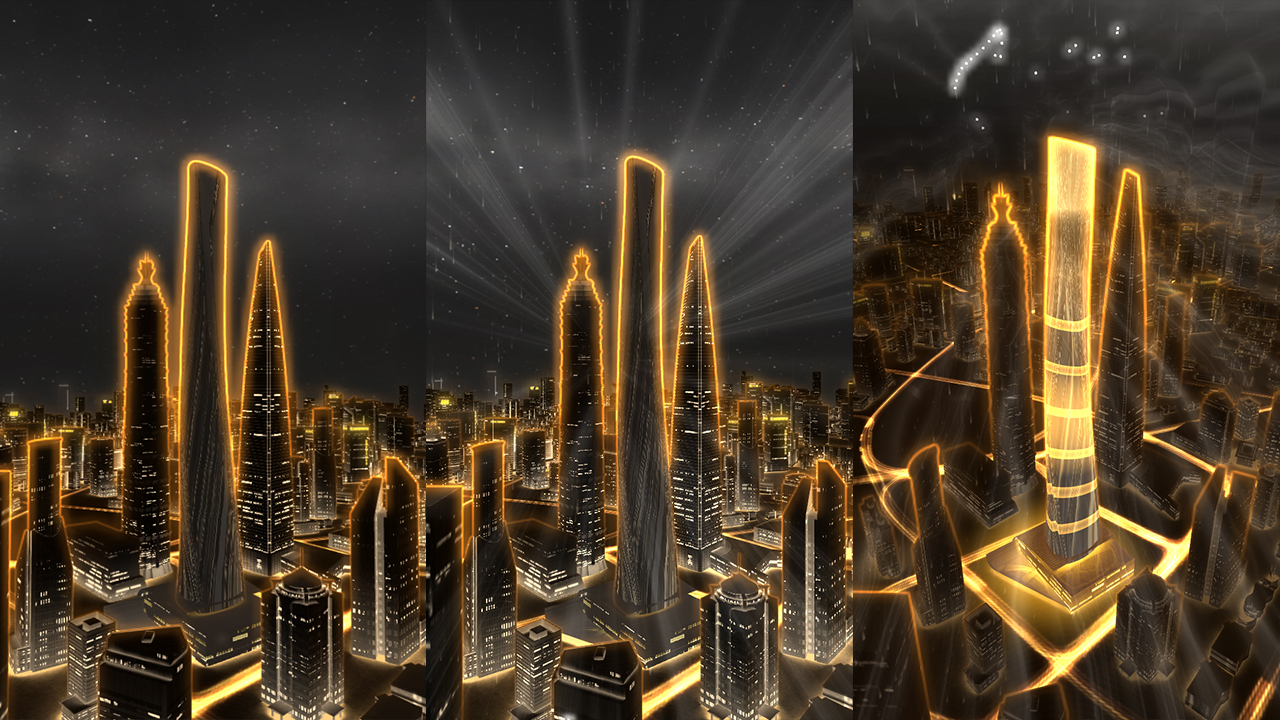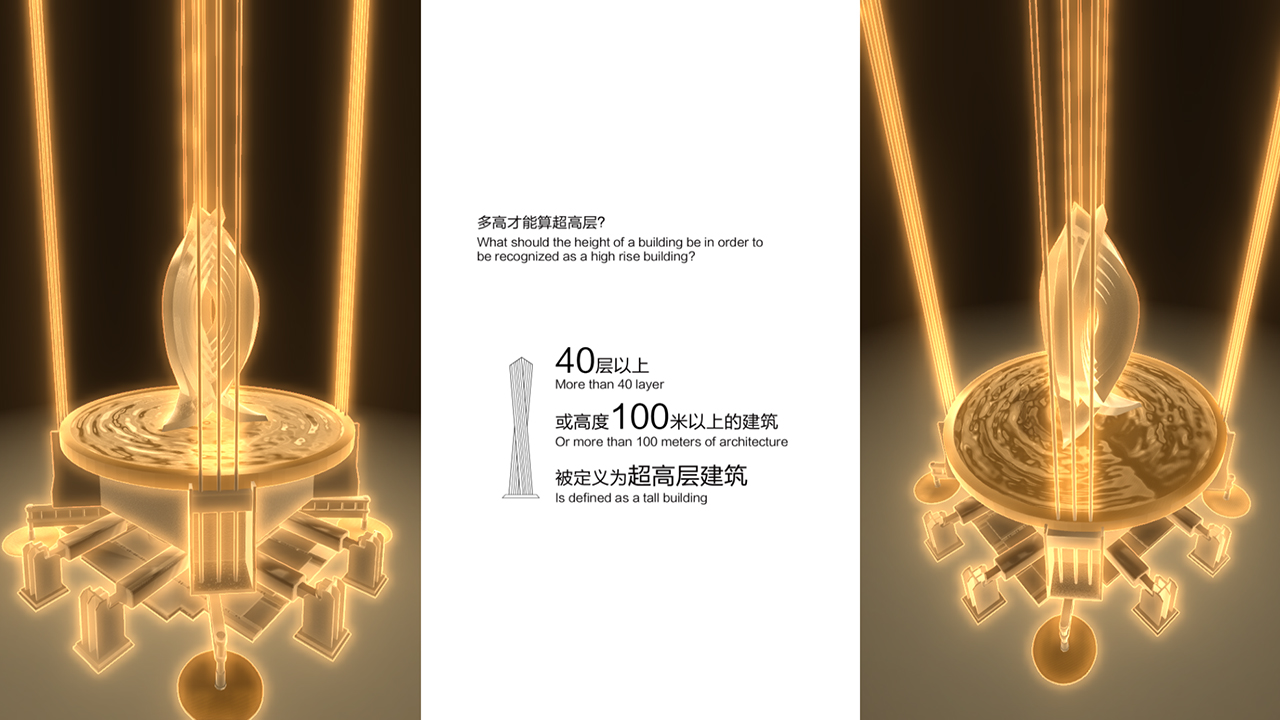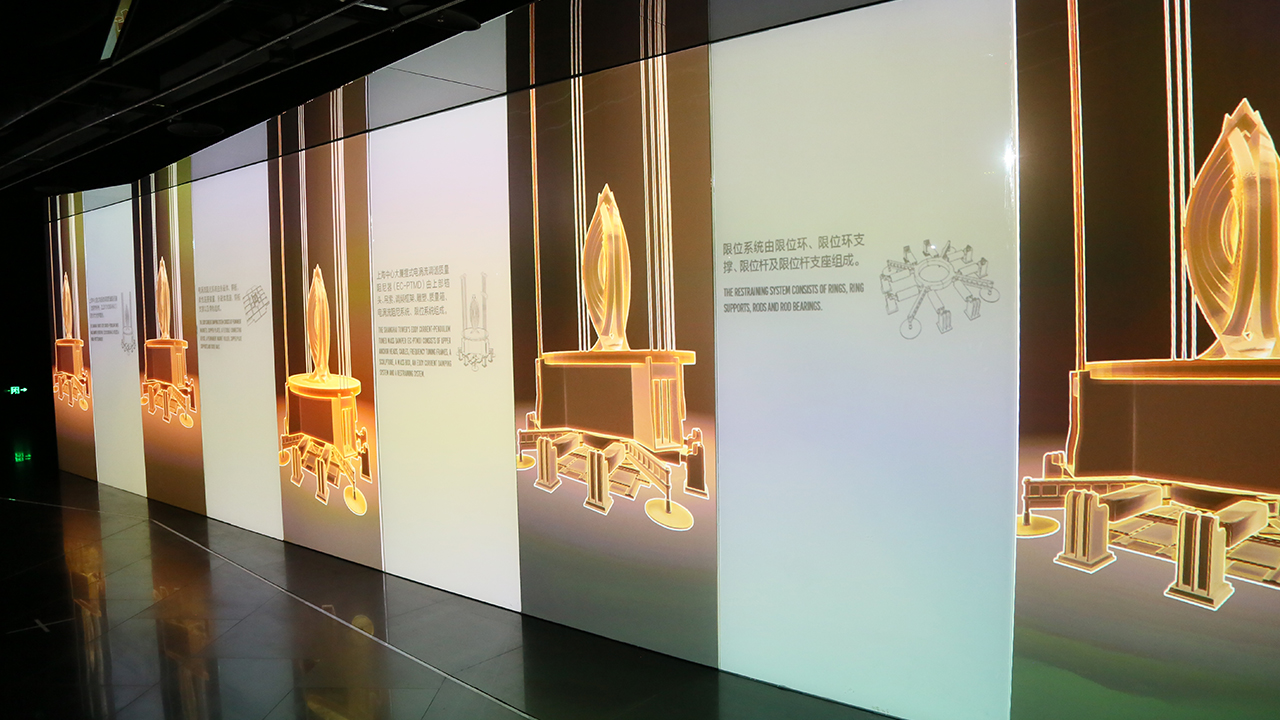 Client:
Shanghai Tower
Type:
Interactive Scenography
Location:
Shanghai / China
Contractor:
Xenario (Shanghai Feilaifeiqu New Media Exhibition Design Ltd.)
Assignment:
Visual Identity
Media System Development
Real-time Visual Effects
Year:
2017
客户:
Shanghai Tower
类型:
Interactive Scenography
地址:
Shanghai / China
施工方:
Xenario (Shanghai Feilaifeiqu New Media Exhibition Design Ltd.)
任务:
Visual Identity
Media System Development
Real-time Visual Effects
年份:
2017